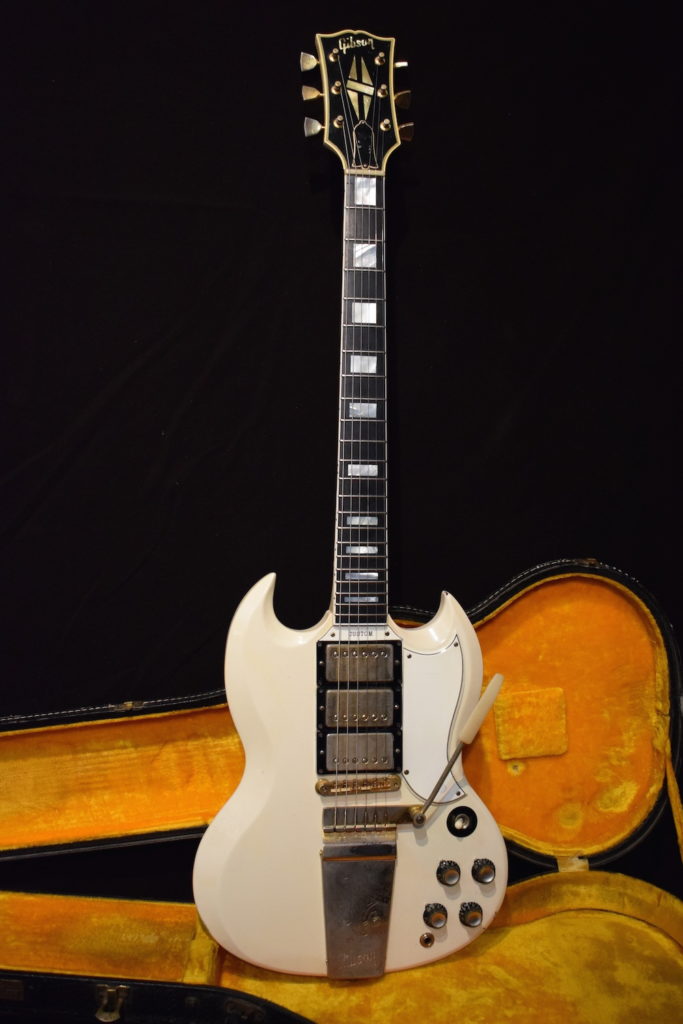 Gibson SG custom
1963
his is a 1963 SG custom Polaris white. It sports gold plated hardware and maestro vibrola with lyre. Just like the one Keith Richards used on the "exile on main street" tour,  this one also had toggle switches added. One was on the pickguard, the other one just under. Those modifications were removed, holes refilled, the area refined and the guitar wired to its original specs. The control cavity was slightly routed and then refilled this is the reason why the back plate is slightly bigger than it should. The pickups sound great, they're all patent numbers pickups (one is missing the sticker) the middle one being possibly late 60s.  Pot codes are not easy to read but looks to be from the 32th week of 1962 which makes sense.
There is one spot of finish touch up on the back as well as this guitar was obviously played a lot.
The neck may have been reset at the right angle but there is no sign of break. It is incredibly nice. It is wide ( 42mm) and so easy to play.  Keith was using his with a capo 7 and that still leaves plenty of room. There are very few guitars that you can play so easily all the way down. The action is very good, very low.
Intonation is perfect.
It weights 3,5 kg only.
Comes in the original hard shell case.
sold