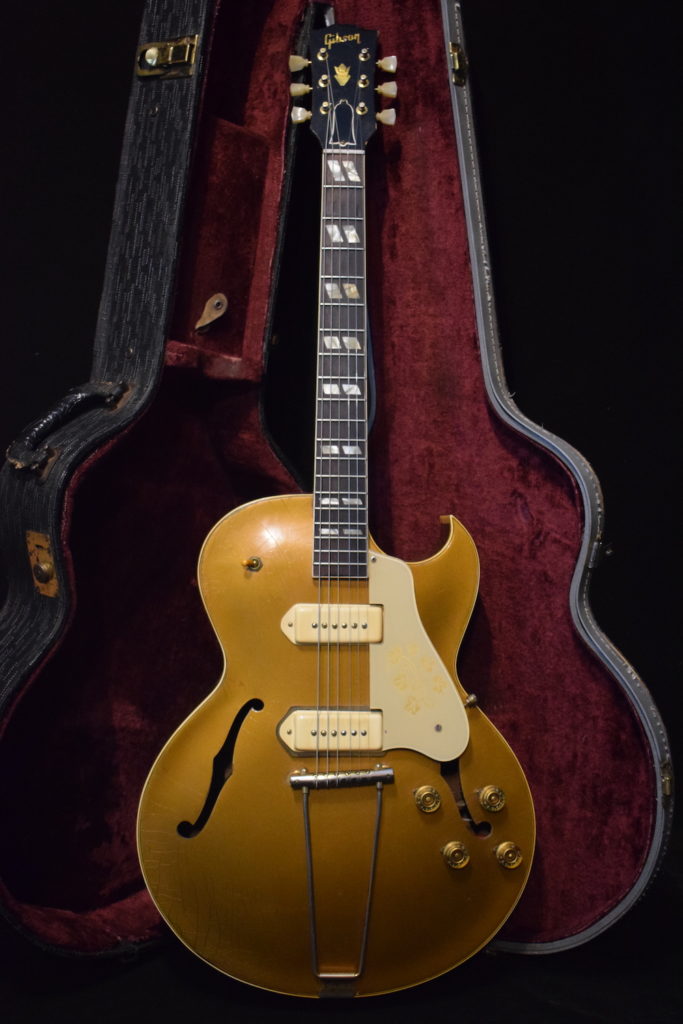 Gibson ES-295
1953
Here is a model that I have never presented to you before. The ES-295 is a guitar apart. While it looks a lot like an ES-175 it only looks so. The playing experience is so different. The neck is certainly identical and if the body keeps the same proportions as its jazz counterpart, what is the difference wil you tell me? Excellent question and thank you for asking. Much of the answer lies in the wrapover trapeze tailpiece. The type of pressure exerted on the top is very different, the result is a more aggressive and biter guitar, you know, rock'n roll. It's more open and with a lot more sustain than a rosewood tailpiece / bridge setup. We also gain power and projection. The 2 P90s are original dog ears, they sound insanely good.
The original gold paint is in good condition. You will have noticed that it always oxidizes a little on these models, the gold paint mixture containing a little copper, it is normal for a little verdigris to appear over the years. That being said even if you can feel it, it's still a pleasure to play. It's perfectly straight and the instrument is actually very sharp. I cant' insist enough on that. At the 12th fret, you strike the open note, the octave, the harmonic, it's dead on.
The electronics work smoothly. Only one capacitor was changed. Original knobs. Original decorated pickguard.
No repair. No break. Note just a small washer added to the jack, the sensitive point of these ES boxes, but nothing that does require an intervention.
Comes in a vintage Gretsch case.
sold