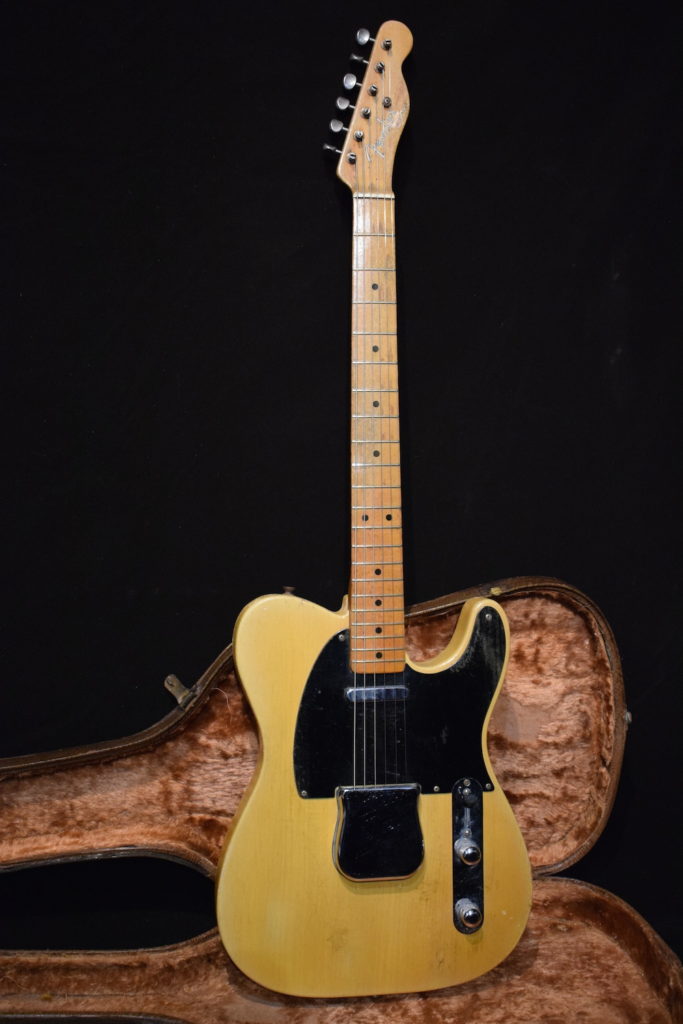 Fender Telecaster
1953
100% original down to the last screw.
The nitro-cellulosic finish, is in good condition, very thin, there's play wear as this guitar has been used but the blacklight shows it has not been altered in any way.
The neck bears the inscription TG-1-7-53 which means it has been crafted and checked by the legendary Tadeo Gomez on January 7th of 1953. The original frets are still in great shape and the guitar plays well all the way up and down.
The logo is original and well preserved. The original tuners have wear but they all work and hold tune very well. The nut is the original one.
The body is entirely original without any repair or finish touch-up. That is very rare. It has the inscription Tadeo 12-31-52. It was therefore completed and inspected by Tadeo Gomez himself on the last day of 1952.
The 2 pickups are original and have not been opened, which excludes any possibility of rewinding.
Likewise the solders on the original pots are intact.
The pots have ink codes from 1946, which is quite common for this production period.
The paper in oil capacitors are original and show no signs of perforation that would require their replacement. The tone control works as it should.
The CRL 1452 3 position selector is also the original part.
As I said before no solder has been touched.
Both dome knobs are original.
Also present is the bridge pickup cover ( ashtray) which is in good condition.
Regarding sound we're in pure Tele heaven. It really is a joy to play and sounds like no other.
Serial number 4328 matches all of the specifications.
The "Thermometer" case is in good condition, its original bakelite handle as well as the latches and hinges are all functional. The interior and exterior is in good condition.
In short this is an amazing, all original blackguard Telecaster made by Tadeo Gomez, started in late 1952, finished in early 1953, completely original and with the case. It's a unique opportunity.
sold